Singapore - 16 Dec - 19 Dec 2016
The second ESMO Asia Congress will take place in Singapore 16-19 December 2016. This scientific and educational congress is led by an international scientific committee and promotes the sharing of expertise and interaction between regional and international experts in oncology. The programme will offer state of the art science and the current standard across all major tumour types.
Mark your calendars for ESMO Asia 2016!
The ESMO Events Apps ESMO conferences
Download the app, add the event you are attending from the events list to the app and you will be able to browse the complete scientific programme by day, topic, cancer type and track, and create your own personalised event agenda.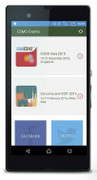 Download the app from Google Play
Please note: the first time you add an event programme to the app, the content download may take a couple of minutes. This is normal. Any subequent programme updates will take seconds!